Notification Centre Confidential Inspectors
Pupils, parents, students, and employees of schools in the Caribbean Netherlands can be confronted with undesirable situations. Sexual, psychological or physical violence, discrimination or radicalisation, for instance. In that case, you can rely on the confidential inspectors of the Inspectorate of Education.
They are available to the schools and institutions and expertise centres educational care on the islands of Bonaire, St. Eustatius and Saba.
Here, we explain what they can do for you, and in what instances you are required to contact them.
A listening ear and good advice
When are you required to contact the confidential inspector?
In case of a suspicion of sexual abuse (sex crime), the notification, (immediate) consultation, and reporting requirement are applicable in a number of instances. The notification requirement applies to employees of schools. The consultation and reporting requirement applies to boards and competent authorities. If you are in doubt as to whether there is question of sexual abuse or sexual intimidation, it is recommended to contact the confidential inspector.
Parents, pupils, teachers, boards but also confidential counsellors can email the confidential inspector of the Inspectorate of Education when (serious) issues occur in or around the school in the area of:
sexual intimidation and sexual abuse (sex crimes)
psychological and physical violence
discrimination and radicalisation
The confidential inspector listens and informs. If so required, the confidential inspector advises, for instance on the submission of a formal complaint or filing of a report. The confidential inspector assists in reaching a solution together.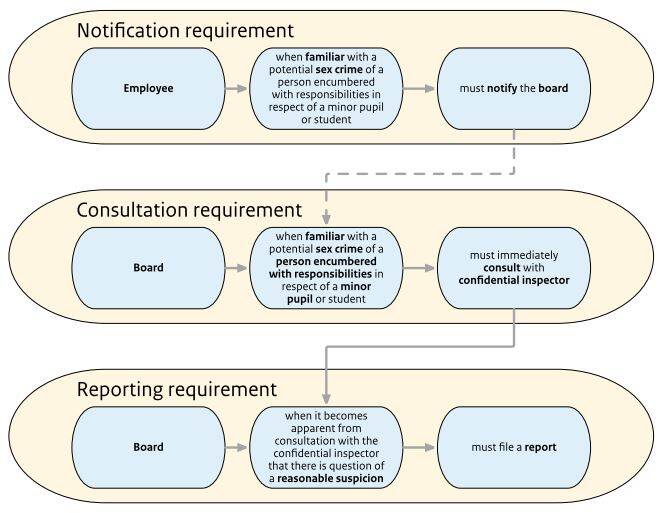 Availability
You can send an email with a call-back request for the confidential inspector. You can send your message to CNvertrouwensinspectie@owinsp.nl.
You should in any case include your name and the telephone number where you can be reached in your email. We then call you back from the European Netherlands. We will respect the time difference with the Caribbean Netherlands.
Confidentiality
The confidential inspector must, in the event of a case of sexual abuse or sexual intimidation, keep everything that is entrusted to them by an education participant, the parents of an education participant or a person encumbered with responsibilities for the benefit of an institution confidential.
Exemption from reporting obligation and privilege
The confidential inspector is exempted from filing a report in the event of a case of sexual abuse or sexual intimidation and is therefore not required to give evidence in court cases in terms of the matters that are covered by their confidentiality obligation.