Contact
Laurens Jörg works in ACM on supervising the special legislation for the Caribbean Netherlands in the areas of electricity and drinking water supply .
Laurens Jörg (legal counsel)
is an experienced lawyer. He and his family have been living on Bonaire since the end of 2015.   For Laurens, working together is the keyword: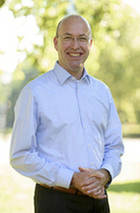 "Working together with the residents of  Bonaire, Sint Eustatius and Saba offers lots of opportunities to learn from one another and to help each other head in the right direction. Naturally the situation varies greatly on all three islands. We are also pleased to stay I close contact with the residents and companies, That's the only way we can get a good picture of the local situation and can do our job well. The challenge inspires me."  
Laurens has worked at ACM since 2009 in a variety of positions. Prior to that, he worked over eight years for an administrative tribunal and was affiliated with Utrecht University.
| Contact | |
| --- | --- |
| Tel | +599 715 83 83 |
| Mobile 1 | +599 781 02 81 |
| Mobile 2 | +31 6 310 35 837 |
| E-mail | |