Emigrating to the Caribbean Netherlands
Everyone lawfully residing or working in Bonaire, St. Eustatius or Saba is covered for healthcare in these islands. In order to be eligible for the BES Healthcare Insurance you must register with Care and Youth Caribbean Netherlands (in Dutch: Zorg en Jeugd Caribisch Nederland, ZJCN). 
There are several rules and requirements related to registration. Only after you meet these requirements, will it be possible for you to register in the ZJCN's healthcare insurance database.
So when you move to Bonaire, Saba or St. Eustatius it is important that you take out medical expenses insurance yourself to bridge this period. This is to prevent that you are not covered for medical expenses until you are (lawfully/officially) registered in the population register of the Caribbean Netherlands. You are not entitled to the BES health insurance during a tourist stay.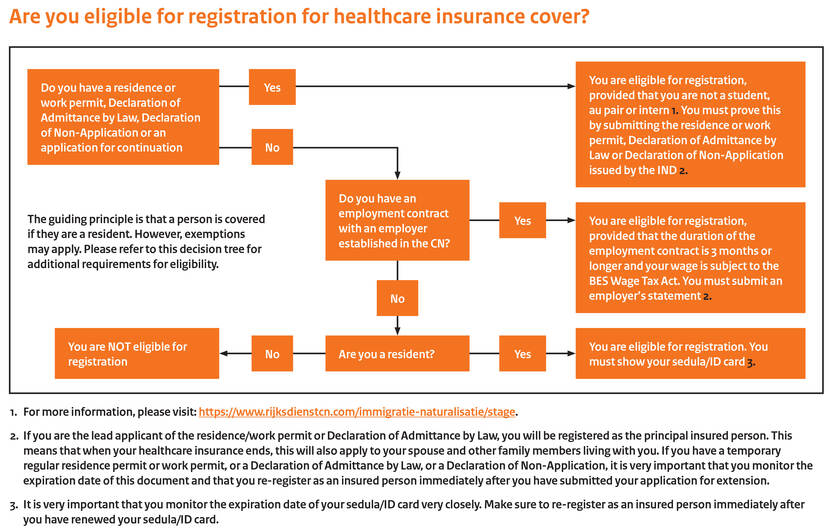 Download Infographic: Are you eligible for registration for healthcare insurance cover?
Registering for healthcare insurance at your ZJCN office?
Only after you have been registered in the civil registry of Bonaire, Saba or St.Eustatius, will you be able to register for the healthcare insurance with the ZJCN. You subsequently must go to the ZJCN service counter with all documents listed below:
Sedula/ID card.

Declaration of Admittance by Law, or Residence Permit or Work Permit, or proof of application for extension of aforementioned documents. In the case of island children, a Declaration of Non-Application.

An employer's statement (in case of a Caribbean Netherlands employer).
You are NOT eligible for registration if:
Your employer is a Dutch public sector organisation.

You are subject to the Access to Social Insurance (Additional Categories of Persons) Decree 1999. You are subject to compulsory insurance in the Netherlands.

Your earned wage is subject to wage tax in another country.

You are staying as a tourist on the islands of the Caribbean Netherlands.
Please note! You are obliged to register with the Census Office. When you have registered, the Census Office will make a proof of identity document (sedula/ID card) for you. As an insured person you must always have this sedula/ID card with you so the healthcare provider can check whether you are registered in the insured persons records.
More information can be found in the brochure Quickly find your path around the Caribbean Netherlands.