Consumer prices on Bonaire increase less rapidly
In Q2 2018, consumer prices on Bonaire were 3.0 percent higher than in the year-earlier period.

In the previous quarter, goods and services showed a price increase of 3.8 percent. On Saba, prices increased by 3.2 percent and on St Eustatius by 1.2 percent year-on-year. This is reported by Statistics Netherlands (CBS) based on the consumer price index (CPI).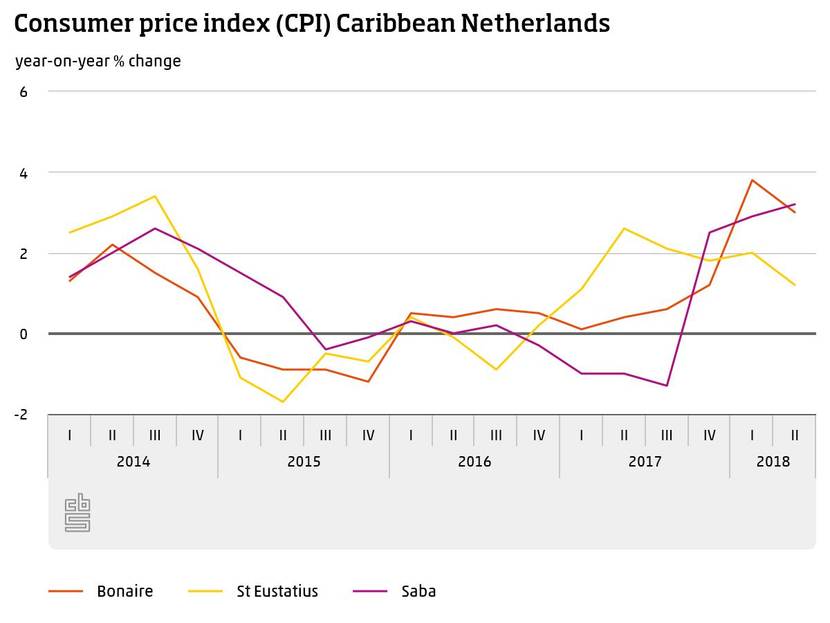 The Netherlands Authority for Consumers and Markets set new prices for water and electricity on Bonaire as of 1 April 2018. In Q2 2018, electricity prices were 6 percent higher than in the year-earlier period; this was 24 percent in the previous quarter. This difference had a curbing effect on the development of consumer prices. An increase in water prices, on the other hand, had an upward effect. Just as with electricity, the price development of fresh fruit also had a downward effect.

Prices on St Eustatius 1.2 percent higher
Consumer prices on St Eustatius were 1.2 percent higher than one year previously; in Q1, this was 2.0 percent. Prices increased less rapidly due to the price development of airline tickets. In Q2 2018, airfares were the same as last year but in the first quarter they were over 2 percent higher than in 2017. The price development of fresh vegetables and bread also had a downward effect on the development of consumer prices.

Consumer prices on Saba continued to increase
In Q2 2018, consumer prices on Saba were on average 3.2 percent higher than in the year-earlier period; this was 2.9 percent in the previous quarter. The price development of telephone and Internet services had an upward effect on the development of consumer prices. The prices of these services were almost 7 percent lower over this year's second quarter compared to one year earlier; in Q1, this was well over 12 percent. The year-on-year CPI growth rate was also higher due to a price increase of building materials. These products showed an increase over three consecutive quarters, with the largest increase in last year's fourth quarter.

As of Q1 2018, CBS publishes the Caribbean Netherlands consumer price index based on the series 2017=100. This has consequences for the way the index is used. More information about the changes is available in 'New consumer price index for the Caribbean Netherlands'.

Provisional figures
The Q2 2018 figures are provisional and will be finalised upon publication of the Q3 2018 figures.

Source:
StatLine Caribisch Nederland - Consumentenprijsindex (CPI) 2017=100