Children at home
It's a stressful time for many families. The measures resulting from the coronavirus follow each other quickly. In many households, for example, the children are doing well at home, but what if tensions rise within the family? Seeking or asking for help is often not self-evident. 
What are the consequences of the corona situation for families?
Partly due to socio-economic consequences of the corona crisis in combination with the 'social distancing' measures, stress is increasing in many families. Families are faced with loss of income or extra pressure because they have to combine work with children at home. Adults and children alike miss their social contacts and leisure opportunities in the outside world. They are dependent on each other as a family. All of this can result in additional tensions, irritations and escalations within families.
How can you best get through this corona period as a family?
Together, answer the following questions: What does every new situation ask of us as a family? What could get difficult and if it does, how will we solve it? What is important for us to agree on as a family? Involve your children in this process as much as possible. Be aware of the fact that unpleasant moments and moments of boredom can never be completely avoided. They're part of normal life, coronavirus or not.
How do you create a daily rhythm?
Having a rhythm in your day will give you peace of mind. It's good for everyone to know what to expect. Divide up your day in moments of (school) work, exercise, resting, learning and (screen) watching. Don't plan a day that's completely full. Children are creative and normally used to entertaining themselves. Also see if there are any household chores that you can do together, such as cooking, cleaning or folding the laundry. It also helps if you do these things at scheduled times. As far as possible, make a clear separation between work time, school time and fun time with the kids. If you try to do everything at the same time, you're basically giving no one the attention that they deserve. A clear distinction between work time and free time can give you peace of mind. Children know when they can disturb you or not and you don't have to juggle too many balls at once.
How do I keep calm in this situation?
Every new situation comes with all kinds of questions and uncertainties. This affects you and all members of your family. You already achieve a lot when you talk about the situation with your family, make plans together, work on creating rest for yourself and your family. Keep in mind that sometimes not all of those plans will work out. That's okay. When there was no corona, things sometimes turned out differently than you intended as well. In short: have realistic expectations, be flexible and share your concerns. But most of all: don't be too hard on yourself or others.
Will my children be able to handle this?
Children are generally very resilient. They'll need the loving support of an adult for this. An adult who takes their questions seriously and answers them, eases any concerns they may have and sets a good example. Children who are supported in this manner can generally cope well enough with changes. Especially in these times it's important to invest in the bond with your child through hugs, love and attention.
What can I do if tensions boil over at home?
Have everyone take a time out (independent of each another), especially if you lose control. Count to ten, take a deep breath, remove yourself from the situation, find a safe place. Go for a walk outside, for example, if you can and no one in your home is sick.
Let off steam: have a jog, run up and down the stairs, jump, punch a pillow, vent to someone else.
Talk to each other about tensions and arguments. What went wrong? Tell each other what you're worried about. Discuss solutions: what will help to calm down you, your partner and/or your children? Make a plan together to avoid any tensions and arguments in the future.
Ask other parents, family or friends for help. Talk to someone you trust about your situation. Call or chat if you want to talk, have a question or are looking for a listening ear.
If you can't solve the problem: Seek support from parenting professionals and aid organizations. You're not alone in these difficult times.
Who or which organization can help me/us?
Can't find a solution to your problem yourself or together with your family, friends or other parents? Get in touch with a social care service. We have listed a number of social care services based on several questions. They usually can be reached by phone on working days, during office hours. Obviously, you can also check the social care service's website first.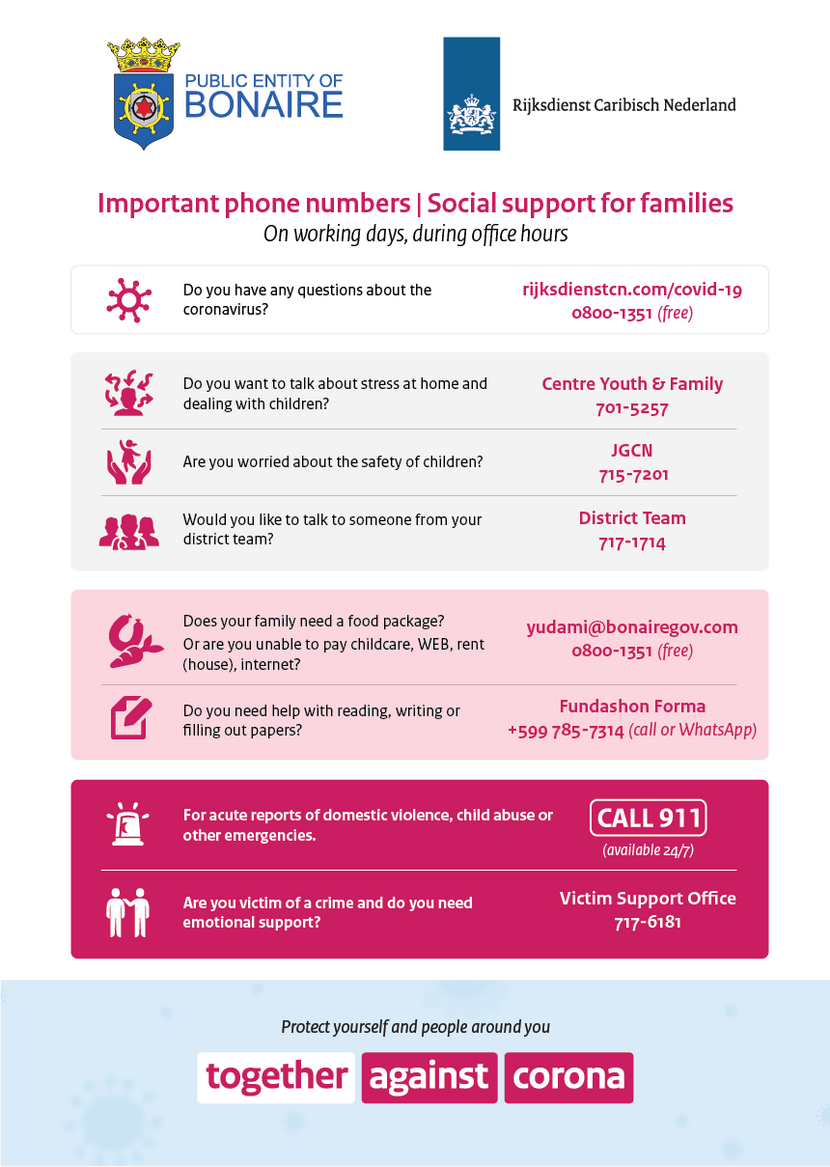 The coronavirus sparks many questions, also about the consequences for the inhabitants of Bonaire. Please check out the other current topics for which a Q&A was made. They may provide the answers that you need in your situation.